EFFECTIVE 3-IN-1 Filter
Atmosphere MINI™ comes pre-installed with one 3-in-1 Filter that contains 3 treatment stages. The Clean Air Delivery Rate (CADR) of no less than 130 cfm at speed 3, to clean rooms up to 200 sqft in size. Allergen removal claims substantiated by third-party certification.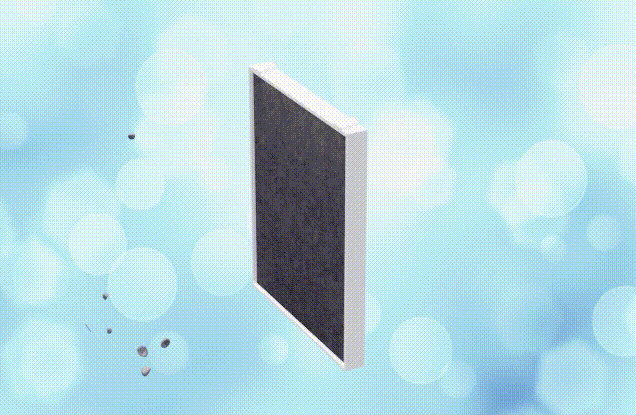 Pre-Filter
Removes large airborne lint and dust particles from the air.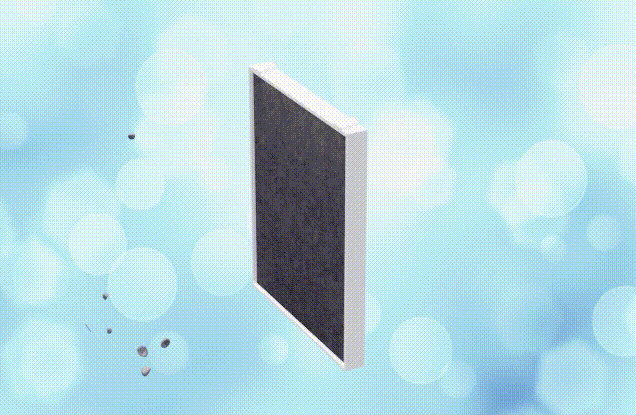 HEPA Filter
Effectively removes 99.99% of particles as small as 0.0024 microns in size from air passing through the unit.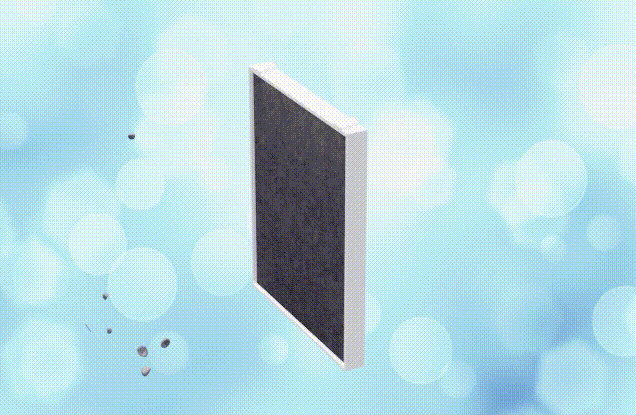 Carbon Filter
Effectively reduces unpleasant odours such as tobacco, cooking and pet odour.
HIGH ENERGY EFFICIENCY YET LOW POWER CONSUMPTION
The all-new Atmosphere MINI™ Air Treatment System is faster, smarter and more effective – while maintaining high energy efficiency and low power consumption.
Inteliflow is our internal air circulation system. Inteliflow combines our proven particle sensor with a three-stage filtration system and a unique motor housing, resulting in cleaner air.
Removes small particles such as allergens, bacteria, mould, viruses, fungi and asbestos.
Reduces formaldehyde, dioxin and ozone, as well as odours from smoking, cooking and pets.
Convenient Presets
With the ability to connect your smartphone using its built-in wireless connectivity, you can now control your Atmosphere MINI™ system conveniently from your device, from any part of your house and even beyond. On top of that, there are also Turbo and Night modes available for you.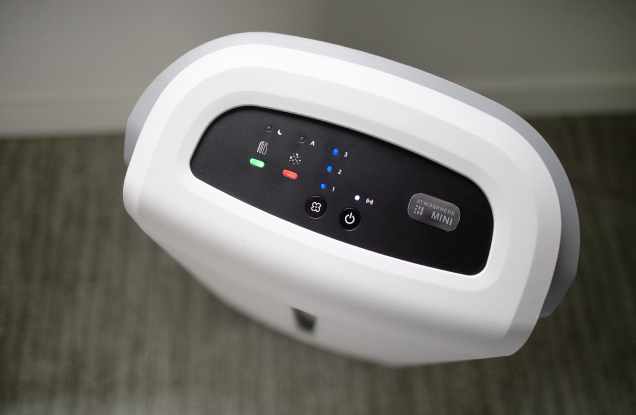 Connectivity
Connect to your smartphone using the built-in wireless connectivity, which allows users to control the unit from their device. Download the ATMOSPHERE CONNECT APP on your smartphone/mobile device and use it when you're at home or away.
CONTAMINATION LIST
Potential pollutants in your home's air that are shown to be removed by Atmosphere SKY™ and Atmosphere MINI™:
Bacteria
Viruses
Fungi
Mould
Dander
Fibres &
pet hair
Dust mite &
cockroach allergens
Smoking
odours
Cooking
odours
Pet
odours
3rd Party Certified and Warranty
Atmosphere MINI™ is 3rd party certified by established industry bodies.

Allergy UK - Seal of Approval
The only air treatment system to be certified by Allergy UK to effectively reduce 102 types of air contaminants.

AHAM
Delivers an AHAM Certified clean air delivery rate (CADR) of 130cfm for use in rooms measuring up to 200sqft in size.
Specification Comparison
Atmosphere SKY™ and Atmosphere MINI™ Comparison
Atmosphere SKY™

Atmosphere MINI™

CADR
300 cfm
130 cfm
Coverage (ft²)
465
200
Particle Size
0.0024 microns
0.0024 microns
Contaminants Removed
327
327
Night Mode
Yes
Yes
Weight
12.6 kg
5.2 kg
Size (cm)
41.1 x 74.7 x 30.1
35.7 x 48.0 x 26.0
Built-in Connectivity
Yes
Yes
Noise Level
26 dBa – 52 dBa
27 dBa – 52 dBa
Filter Type
Pre-filter, HEPA, Carbon
3-in-1